The 2020 Utah Section PGA Women's Match Play Championship put on a display of the Section's new associates and a couple of past champions, but it was Carly Dehlin-Hirsch, of Glenmoor and TopGolf, who outlasted them all to win this year's championship on October 20-21 at Riverside Country Club in Provo.
"My first win as a pro, it's awesome," Dehlin-Hirsch said. "I haven't been playing much so I was nervous to come out because my game isn't sharp, but I played quite well so I'm really happy to come out here and win."
After a nine-hole seeding round on the first day, Dehlin-Hirsch claimed the third seed to face Xena Motes, a new associate in the Section as of this month and long-time Utah golf competitor.
Dehlin-Hirsch won her first match on the 16th hole at Riverside and would advance to the semi-finals to face Sadie Palmer, who outlasted former match play champion Emily Jones, also on the 16th hole.
The match between Dehlin-Hirsch and Palmer was a back and forth match where Palmer was 2 up on the front nine until Dehlin-Hirsch found some rhythm and created a comfortable 3-up lead until the 16th hole, when Palmer capitalized on some unwarranted mistakes.
"I was steady all day, then got a little nervous on the way in," Dehlin-Hirsch noted.
Palmer chipped away the lead and was one down on the 18th tee. Her birdie attempt just barely slipped by the hole, leaving Dehlin-Hirsch a slippery 10-foot putt to finish the match, which she made and determined the shot of her tournament performance.
"In my semi-final match I was three up with three to go and I was just having a collapse, but I made a 10-foot slider to stay alive. That par putt on 18 was pretty big."
She would go on to face former Utah Women's State Amateur champion and new section associate Sirene Blair in the final match.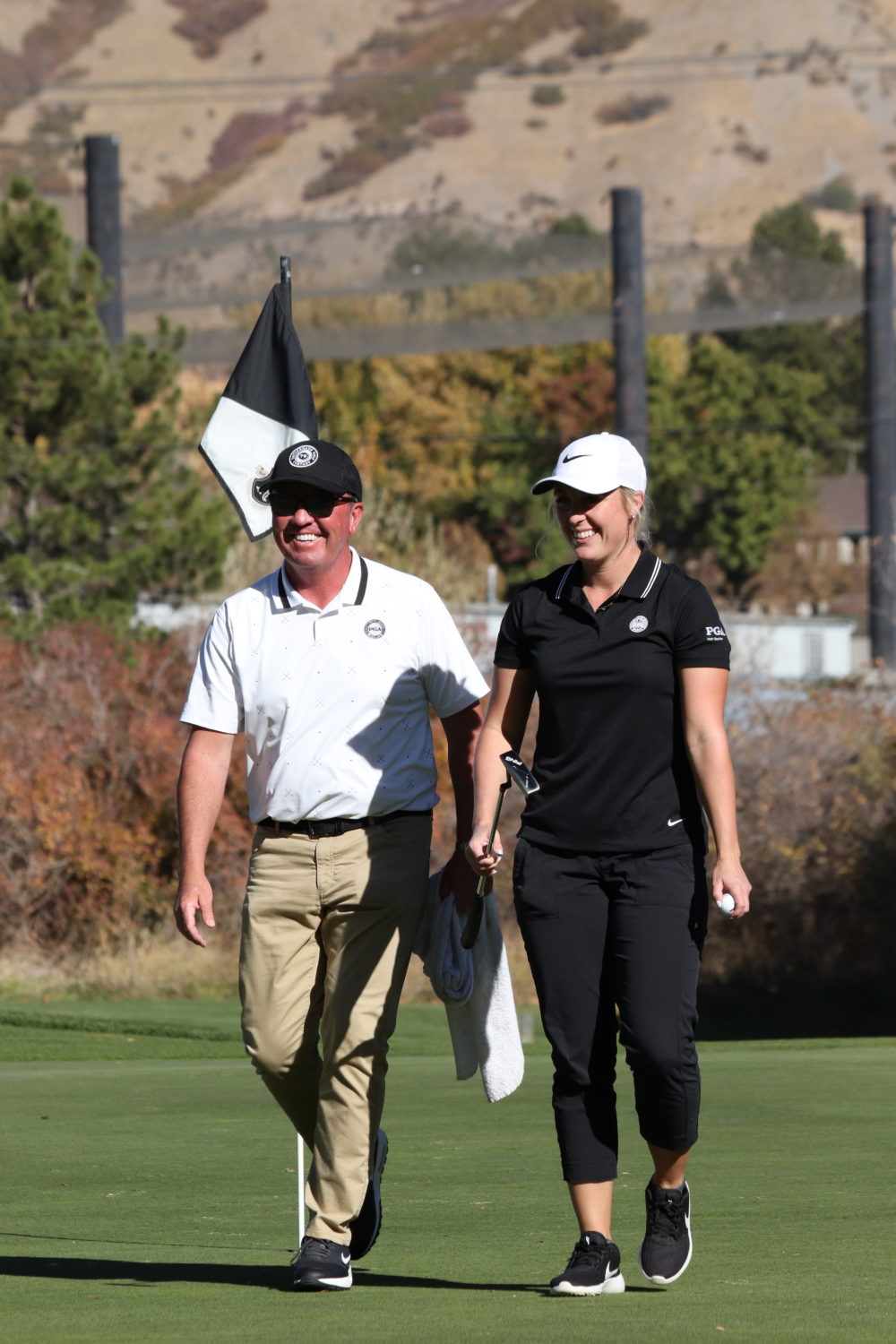 Blair drew Sue Nyhus in the first round then defending champion Haley Sturgeon in the final four where she extended the match to 19 holes and won by sticking her approach a foot from the hole for a conceded birdie.
With her father and Utah Section Executive Director Devin Dehlin on the bag, Dehlin-Hirsch got off to a fast start in the final match with Blair and never looked back.
She won the first four holes and then the 8th hole to get to 5-up on the front nine. Blair won her only hole of the match on the par-three ninth to make the turn.
Dehlin-Hirsch would win three of the next four holes to win the championship on the 13th hole 7 & 5.
"It's always fun, he's awesome. My dad is the best," she said of her caddy. "I was hitting the ball really well; my ball striking was good. I was putting the ball pretty well, too, all those short putts, but really hitting the ball well."
A thank you to our growing membership of women PGA Professionals who came out to compete and thank you to Riverside Country Club for hosting.
Women's Match Play Championship photos HERE.