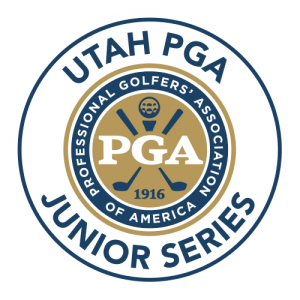 The Basics:
–Juniors Age 13-18 are invited to play in this series.
-Separate Boy's and Girl's Divisions for ages 13-14, 15-16 AND 17-18.
-The Utah PGA Junior Series 13-18 Divisions will play 18 holes at each event.
-Utah PGA Junior Series Tour players will be allowed caddies at regular and Major events, although they are not encouraged (NOT allowed at PGA Junior Qualifier). Read the Utah PGA Junior Series Tour Caddie Policy here.
-Parents are allowed to follow their players, but not give advice. Only designated caddies may give advice.
-Each tournament has a registration deadline 3-days prior to the event. Some tournaments fill up, so the earlier you enter, the better.
–Cancellation/Refund Policy: must be requested no later than 48-hours prior to activity or event, a cancellation fee of $3 will be applied. Cancellations later that 48-hours prior to the event will be reviewed on a case-by-case basis for refund.
Membership Fee: $65
*Includes a $10 UGA membership card for the year.
Tournament Fee: $35 per event

*Each tournament fee includes green fees and lunch.
All members will be required to pass the rules and etiquette quiz prior to tournament registration.
Our PGA Junior Championship Qualifier is
June 14-15, 2021 at Soldier Hollow Golf Course
This event is open to UTAH RESIDENTS ONLY.
This event is best fit for players averaging 90 or better on 18 holes.