By Randy Dodson
He was sitting in the corner of the viewing room by himself.
I looked at him, not catching his eye, and turned away thinking that I had met him before, somewhere. He looked familiar but I couldn't place a name with his face. As much as I have run around in Utah's golf circles it bothered me that I could not name him.
I moved along the viewing line at Billy Casper's funeral and took a few more glances at him, again without catching his eye.
I paid my respects to Billy, his wife Shirley and the family then turned to find a seat in the chapel.
With one last look, he was looking right back at me. Not wanting to be disrespectful of someone I was sure I knew I walked over, shook his hand and introduced myself.
He smiled and said, "I'm Doug Sanders."
I knew just enough of the former PGA Tour member to recognize his face but not enough to remember why.
For the next few minutes I sat with the "Peacock of the Fairways" as he told me a few stories of playing with Billy during their PGA Tour heyday. With a tear on his cheek he told me how they caravanned from stop to stop and that Billy would come to Houston and play his tournament. He missed the camaraderie of those days on tour.
Bob Casper said Sanders was known for going out of his way to be nice. "My mother said it meant a lot to her and our family that Doug attended the funeral." He had driven to Utah from Texas to be there that day. Just for Billy. "That was really special to us," Casper said.
From head to toe you could not miss Doug Sanders. With 20 PGA Tour wins he is best known for his neon-bright colorful apparel and for missing a three-foot putt to win the 1970 Open Championship at St. Andrews. Sanders lost the following 18-hole playoff to Jack Nicklaus by one-stroke, 73 to 72. It was the second of three Nicklaus wins at the Open and the fourth of four runner-up finishes Sanders had in major tournaments.
"I remember thinking how bizarre it was that he would show up at an LDS church in Utah County," says sports anchor Wesley Ruff. "I think most people think of him as the guy who jabbed that little putt at the Open at St. Andrews and ended up in a playoff with Nicklaus, which he lost. But he won 20 times on the Tour. That's a lot! What he did in the majors in 1966 is pretty amazing. Top 10 in all four that year! T2 at the British, T4 at the Masters, T6 at the PGA Championship, and T8 at the U.S. Open. And he won three times that year, including a playoff win over Arnold Palmer at the Bob Hope Desert Classic."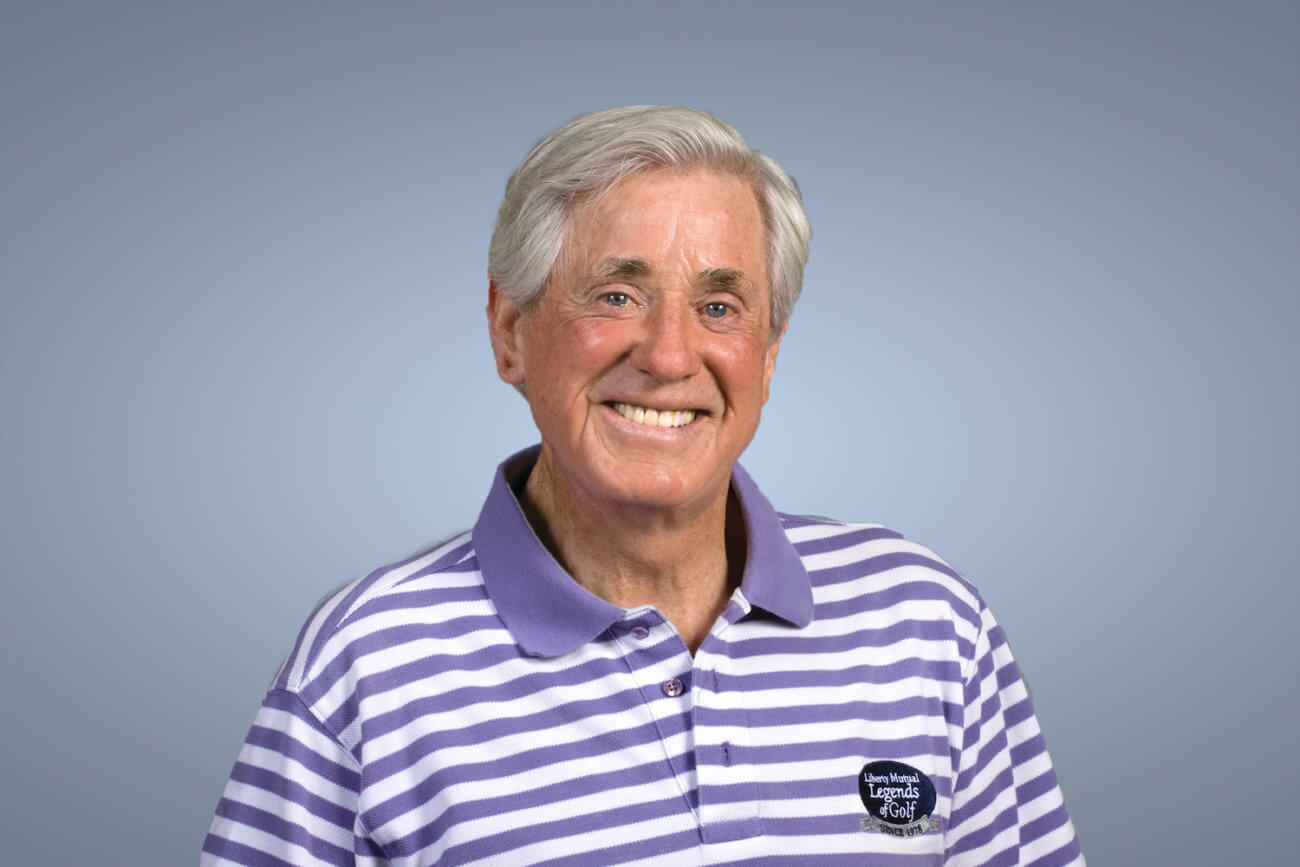 Former Utahn Laury Livsey, the PGA Tour's senior director of international communications provides the following history of Sander's playing days in Utah:
"The two PGA Tour events Sanders played in Utah were the 1958 and1960 Utah Opens, both at the Salt Lake Country Club. He was T15 in 1958, fifth in 1960. Pretty respectable. In 1960, he held the 54-hole lead (64-67-64), two shots ahead of Bill Collins. He shot a final-round 71 to (Utah Golf Hall of Famer) Billy Johnston's 63 and finished four shots behind Johnston (a prince of a guy who will deserve a long obituary and all the accolades despite not having near the career Sanders had). It went Johnston, Art Wall Jr, Collins and Ken Venturi (T3) and Sanders in fifth. A third-round 73 derailed his chances in 1958. As for his PGA Tour Champions career, he played once at Park Meadows, in 1999, when he was well past his prime. He finished 77th."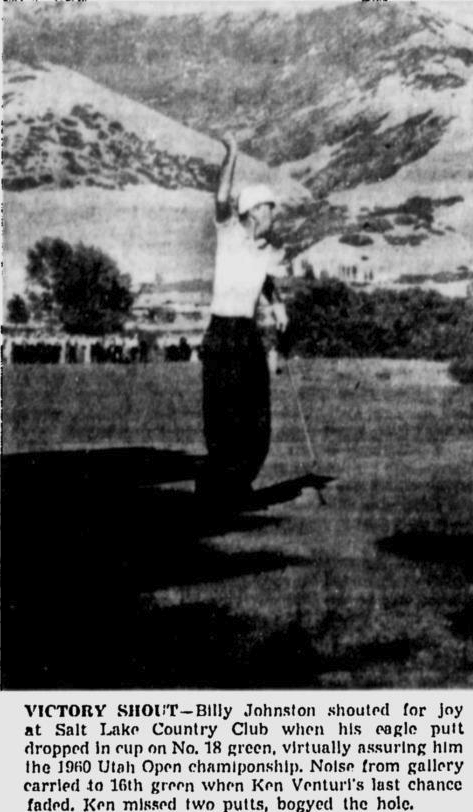 Of the1960 Utah Open Deseret News sports writer George Ferguson reported, "And so it was that despite multi-sensational rounds, which entertained the huge galleries no end, the sub-par scorched course eventually put the whammy on all previous leaders – Jay Herbert, Bill Collins, Doug Sanders and Dow Finsterwald.
"Sanders, who carried a two stroke lead into Monday's finale, found his nemesis lurking in the island of scrub oak which protects No. 4 green and prompts a play it safe or gamble decision.
"Doug gambled. And before he had scrambled out of the oak, onto the bordering rough, in and out of a sand trap and into the cup, he had a bogey and had lost the lead – at that particular point to Finsterwald and Collins.
"That seemed to set a scrambling pattern for Doug. The young man with the brief backswing who shared the lead the first day and led the third was through. He came in with a 71, a 266 total, good for fifth and $1,100." (Deseret News September 13, 1960.)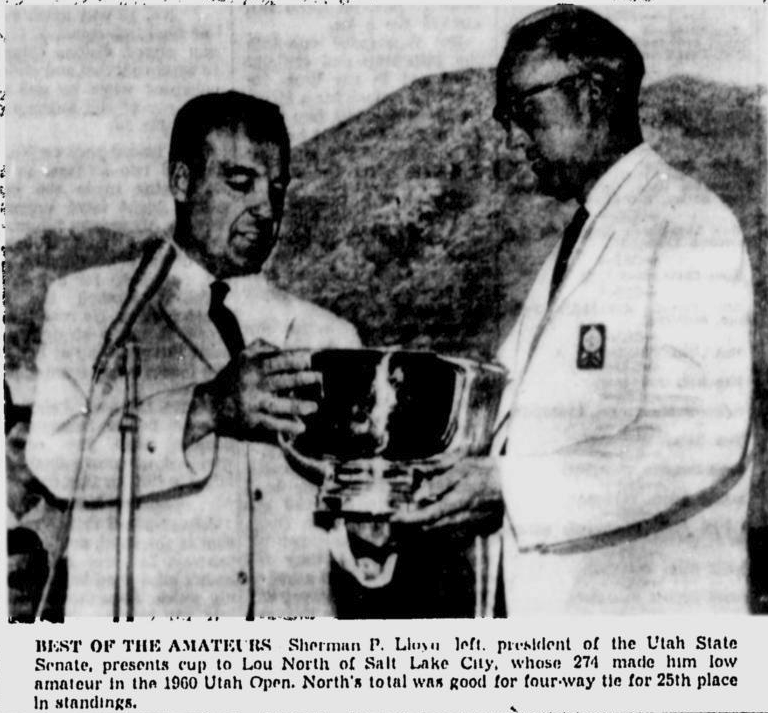 Of local interest, 2020 Utah Golf Hall of Fame inductee Lou North was the low amateur of the 1960 Utah Open at T25 with professional Dick Kramer. George Schneiter Sr. beat his nephew Ernie Schneiter Jr. for 28th place and a $90 payday.
My only previous encounter with the Sanders persona happened in the Las Vegas National clubhouse where, as a former winner of the 1959 Sahara Pro Am, then an unofficial PGA Tour event and predecessor to the PGA Tour's Sahara Invitational, Sander's complete pink outfit; shirt, sweater, belt, pant, socks and shoes is enshrined in the Las Vegas Golf Hall of Fame.
Though his life on tour was full of documented shenanigans off the course, my memory of Sanders from our brief chat in Billy Casper's viewing room is of a soft spoken man with a vivid memory of meaningful times with famous friends, playing a game that defined his life and lifestyle.
Sanders, at 86-years old, passed away earlier this week, on Easter Sunday, in Houston, Texas.
Randy Dodson is the publisher of Fairways magazine and a frequent contributor to the Utah PGA News page.