By Shaun Delliskave for the Murray Journal
Cover photo: Mick Riley, right, and George Von Elm reunite in the 1950s to recall past glories. Photo courtesy of Marriott Library.
What is the only golf course in Utah named after an actual professional golfer? If you said Jeremy Ranch or Nibley Park, try again. That distinction belongs to Mick Riley Golf Course, named after the man known as the "Dean of Utah Golfers." While the Murray course is always busy, most people have forgotten or don't even know about Riley. Also, contrary to many high school golf team rumors, Mr. Riley is not buried by the clubhouse (he is buried in Mount Calvary Cemetery, although he probably wouldn't have complained had he been buried at a golf course).
Born in 1897 in Burke, Idaho, Joseph Michael (Mick) Riley found his way to Utah. There weren't many options for linksters when Riley was taking up the sport in the 1910s. At the time, Forest Dale had a hitching post for golfer's horses.
Riley learned golf by caddying at the Salt Lake Country Club, being mentored by notable golfers such as George Von Elm, several years his junior. Von Elm, who grew up in Utah and California, and with Riley as his caddie, took on one of the preeminent golfers of the day, Bobby Jones (who would later found the Masters Golf Tournament). Von Elm became the first golfer from west of the Mississippi River to win a major tournament, and he not only instilled in Riley a passion for golf but exposed him to some of the best golf courses in America.
Like a duck to water, Riley's experience, plus winning an occasional tournament, helped to secure his position as the first head professional at Nibley Park Golf Course. According to sportswriter Bill Johnston, there were only 122 active golfers in Salt Lake City at the time. For the uninitiated, a professional at a golf course is someone who makes their living from teaching the game, running golf clubs and classes, and dealing in golf equipment.
An adroit golf pro, Riley earned the praises of the Salt Lake Telegram at the end of Nibley Park's first season in 1922. "The work of Professional Riley at the course is worthy of special commendation. It was Riley's job to develop interest and get the golfers out. He did."
Not only did he get the golfers to come out, he developed a course championship, several tournaments, and high school matches. He developed greens and challenging hazards; he also developed aspiring golfers and advocated the sport to women. It was this latter undertaking that led Mick to meet his wife, Estella at one of his classes.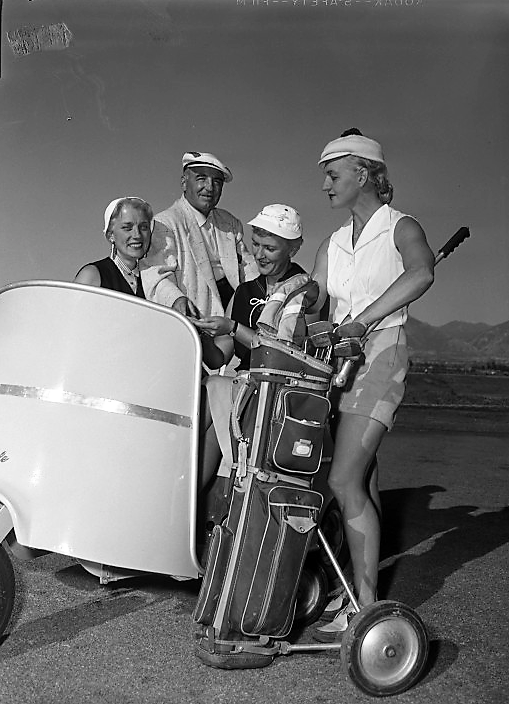 Utah's most enthusiastic golf cheerleader would do anything to bring people to experience the game. Even winter was no match for Riley, who opened one of the first indoor golf ranges in downtown Salt Lake in 1930. The Telegram reported that by 1947, 80 percent of all Utah golfers were, at one time, a pupil of Riley's.
His green design skills were in high demand, as he helped plan courses in Magna, Tooele, Richfield, Moab, Indian Springs, and American Falls, Idaho, as well as Salt Lake's Bonneville Golf Course. He also revamped the Nibley Park and Forest Dale courses. However, his passion project was Meadowbrook on 3900 South, which he designed and managed until his death. His progressive thinking led to the establishment of a daycare center at Meadowbrook, so that young mothers could take up the game.
After forming the Utah Golf Association, Riley was elected as vice president of the National PGA and served for three years. He also served on several national PGA committees. He was president of the Rocky Mountain Section of the PGA and Golf Professional of the Year in 1955 for the Rocky Mountain Section.
During the 1960s, he was asked to design the Little Valley Golf Course off of Vine Street in Murray. However, his death in 1964 prevented him from ever teeing off at the course. That honor was given to Estella, his wife, and their children at the newly christened Mick Riley Golf Course in 1967. Riley was also posthumously honored as a member of the Utah Golf Hall of Fame.
Perhaps the Salt Lake Telegram summed up Riley best, "The story of Mickey Riley is the story of golf in Utah, for without him many of the municipal courses that have made golf available to the 'working man' might not be."    
Story reposted with permission by Shaun Delliskave and the Murray Journal.