If you've watched The Country Club's Assistant Professional Haley Dunn-Sturgeon play golf, the last word you would use to describe her game is 'rookie.' However, in her rookie season as a PGA associate member of the Utah Section PGA, there was no stopping her in claiming the Omega Women's Player of the Year.
"Words cannot describe how amazing it feels," she said. "I love competitive golf and to win Player of the Year, it truly is an honor. I have been working hard on my game and recovering from injuries so it is nice to get back on top."
She took the Section by storm by playing in four events that provide points in the season-long race, and won two of them. She won the Women's Low Pro in the Valley View Open and cruised to the top of the Utah Section PGA Women's Match Play Championship at Riverside Country Club.
Sturgeon finished runner-up in the Brigham City Open Women's Division and finished 10th at the Siegfried & Jensen Utah Women's Open, her lowest finish of the season.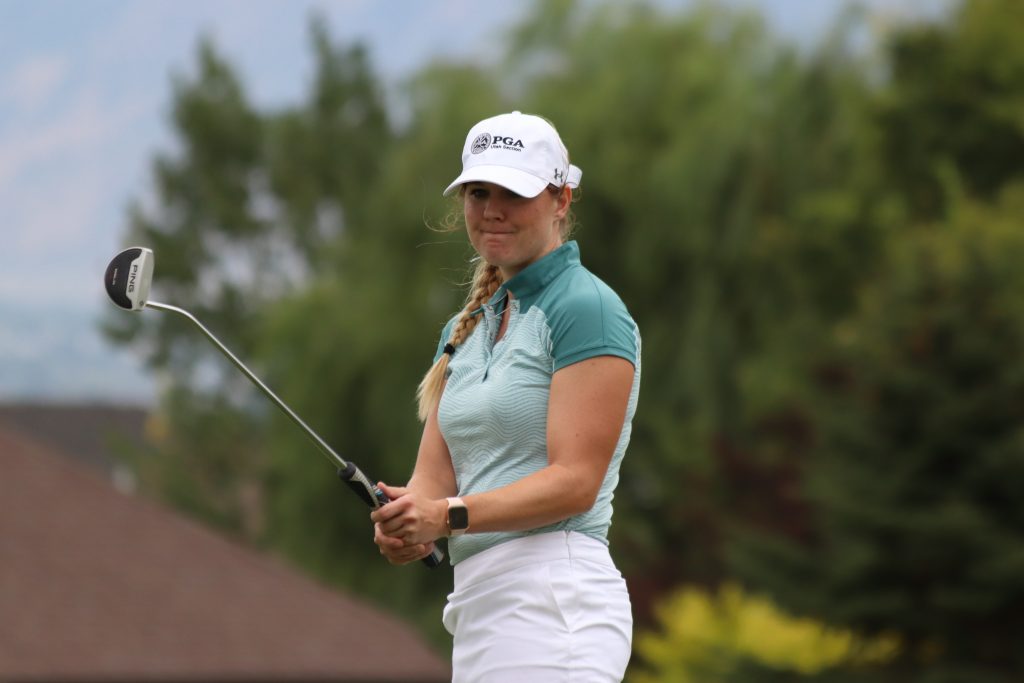 Finishing runner-up in the points race was TopGolf's Carly Dehlin-Hirsch, followed by Promontory Club's Sadie Palmer in third and Glenmoor's Sam Crawford in fourth. This top-four have all recently started the PGA Professional Golf Management Program (PGM) and are new associate members of the Section.
After the points were totaled for the year, Sturgeon added one more win on her season, just for good measure, at the Utah PGA Pro-Assistant Championship in November when she teamed up with The Country Club's Wayne Fisher.
In fact, it was at the Pro-Assistant Championship that added the extra icing on top for Sturgeon's year when she shot a personal-low 63 on her own ball in the first round at Bloomington Country Club.
"The highlight of the season is probably when I shot 63 on my own ball," she explained. "I made sure I putted out every shot so it was a true score. It was also my first bogey-free round. I felt unstoppable that day."
Though her Utah Section play brought a season's-worth of results, she also fit in a Q School prep event for The Cactus Tour, where her best and worst shots of the year came on the same hole.
"I believe it was on hole 16 on the Dinah Shore Course at Mission Hills. It's a dogleg right with a wide fairway and a palm tree on the right side. Before teeing off I was talking with my dad to create our game plan. Basically, it was to hit one down the middle and stay away from the palm tree that blocks the second shot. What did I do… sprayed my drive right and put it perfectly behind the palm tree."
Luckily her best shot followed from 158 yards to the pin.
"I visualized a low hook that would bounce in front of the green and roll up by the pin. I asked my dad for the five iron and hit the shot exactly how I envisioned. It was icing on the cake when it stopped 15ft from the hole. I then rolled in the putt for my most amazing birdie."
Sturgeon started the PGA PGM program this year and is currently teaching at The Country Club. She will be traveling back to Arizona for the Cactus Tour during the off season.
Sturgeon looks forward to the opportunity to continue to play and compete in Section events in 2020 as the amount of women members continues to grow each year.
Haley Sturgeon Fast Facts:
Do you have any superstitions when it comes to golf or playing in tournaments?
I wish the answer was no, but I do. I try to only play with a number four golf ball. When I'm on the practice green making three-foot putts, if one ball misses multiple times, I feel that is the "bogey" ball and I put it back in my bag… I'm slowly getting over this one.
What's the last movie you watched?
The last movie I watched was Linsey Vonn: The Final Chapter.
What book is currently on your nightstand?
I'm not a huge book reader, but I love audio books. This is usually what is playing while I'm practicing. Right now, I'm listening to Harry Potter and the Half Blood Prince.
If you had to pick one PGA Tour member, one LPGA Tour member and one actor to complete your group, who would you pick?
I would choose Tiger Woods, Paula Creamer and Justin Timberlake.